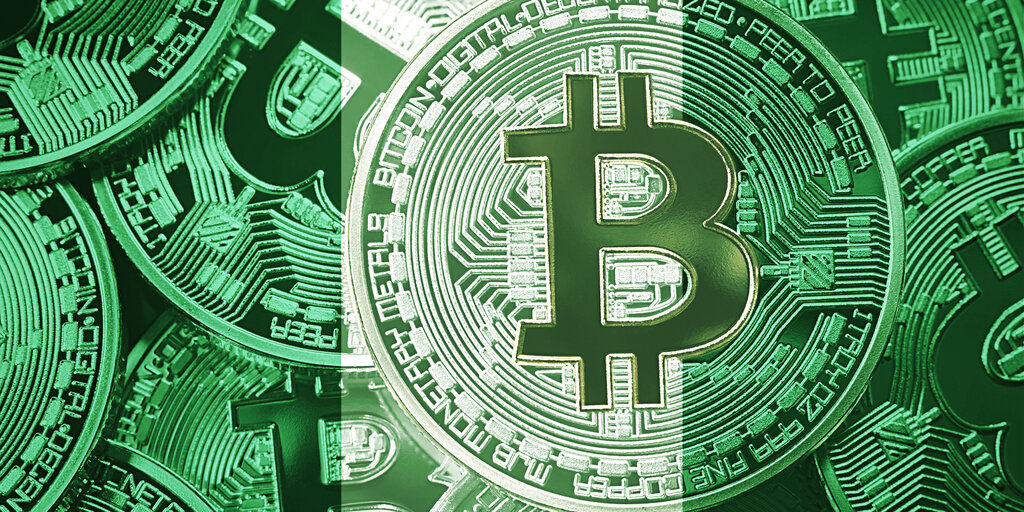 Three months after Nigeria's central bank restricted financial institutions from dealing with anything crypto-related, peer-to-peer (P2P) Bitcoin trading in the country is having a heyday. 
According to analytics platform UsefulTulips, Bitcoin P2P trading in Nigeria has surged by 27% since restrictions were introduced by the country's central bank (CBN).
"The CBN requested that banks and other financial institutions close the accounts of cryptocurrency exchanges in the country," a spokesperson for Paxful, a leading P2P exchange in Nigeria, told Decrypt. However, as individuals are not banned from using cryptocurrencies, "peer-to-peer platforms like Paxful are not affected by the action," she added, noting that "as a result, all peer-to-peer services are seeing growth." 
Nigeria is Paxful's biggest market and the largest P2P market in sub-Saharan Africa. While P2P trading in Ghana and Kenya is also on the rise, almost $103 million was traded in Nigeria in the past 90 day period on P2P exchanges Paxful and LocalBitcoins—up from $80.6 million three months before. 
The enthusiasm with which the country's youth have taken to crypto means that Nigeria is often called Africa's Bitcoin Nation; its trading volumes made records prior to the controversial ban.
The price of Bitcoin has rallied by almost 500% since the start of its latest bull run at the end of 2020, hitting record highs of almost $65,000 this month before a pullback to $54,000.  
And while Africa's overall trading crypto volumes are tiny, a mere two percent of global volumes, the emergence of Bitcoin and other cryptocurrencies create life-changing value here, compared to other regions. 
Nigeria's faltering economy sparks crypto action
Stringent capital controls on outflows, high transaction costs on international transfers, and a minimum transaction limit of $100 on card payments on international websites are among the factors contributing to the popularity of crypto in Nigeria, said Paxful's spokesperson. 
But the instability surrounding Nigeria's currency, the Naira, is perhaps the key factor. According to the World Bank, up to 20 million Nigerians, or approximately 10% of the population, may be driven into poverty by 2022 largely due to the pandemic-related economic crisis; since President Muhammadu Buhari took office in 2015, the country's unemployment rate has quadrupled to 33%.
You don't throw away the baby with the bath water. You don't destroy Nigeria's economy because of regime security. If you have issues with #Crypto #BitCoin, regulate it, but don't eliminate it. Eliminate it and you eliminate jobs. And our youths need jobs! #EndSARS #TableShaker

— Reno Omokri (@renoomokri) February 5, 2021
Danny Oyekan, CEO and founder of blockchain investment company, Dan Holdings, told Decrypt that Nigerian users were largely responsible for transactions on his crypto payments app, Coins App, surpassing $21 million since its launch six months ago. "[The] ban will be met with action," he predicted in February when the restrictions were announced. 
P2P is where much of that action is taking place.