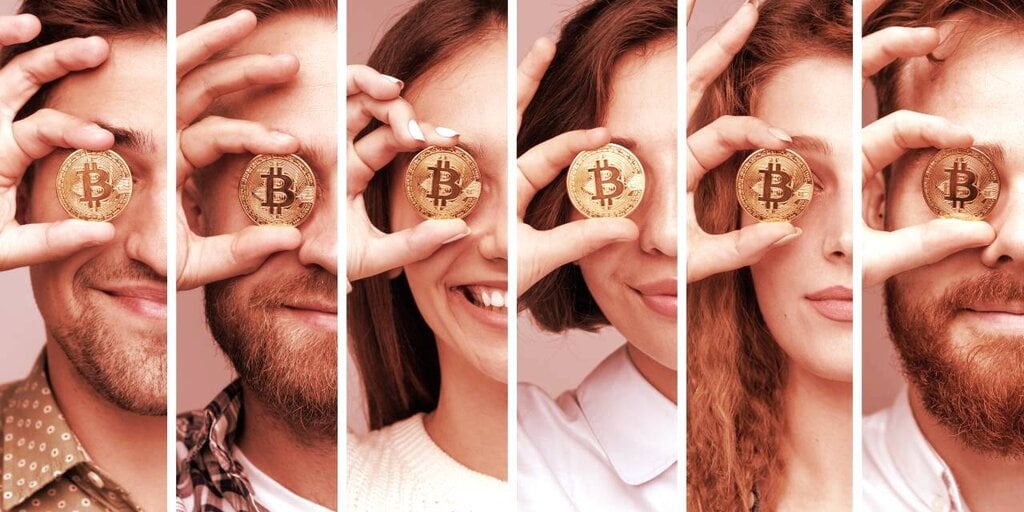 Roughly 63% of adults in the US are "crypto curious," while over half of those interested in cryptocurrency are women, according to a survey by crypto exchange Gemini shared with Decrypt.
According to the survey of 3,000 US adults, the "average" crypto investor who already has some digital assets is currently a 38-year-old male with an annual income of roughly $111,000. However, the findings suggested that the profile of the typical crypto investor is poised for rapid change.
That's because out of all those labeled "crypto curious"—people who don't hold crypto but are interested in it—roughly 53% are women, and 25% of them are "older women nearing retirement." Interestingly, there are far more women in the UK (41.6%) than in the US (26%) who said they already have—or had—cryptocurrencies, based on the "State of UK Crypto" report published by Gemini in March.
"This new research signals a valuable and welcome diversification of crypto's investor base. A broader set of participants establishes a positive long-term evolution of the market," noted Noah Perlman, CEO of Gemini.
Crypto holders set to double
As for already established holders, the numbers were roughly the same for both the US and the UK—approximately 14% of respondents already own cryptocurrencies. However, nearly the same number of surveyed US adults—13%—said they plan to buy digital assets in the next 12 months, suggesting that the total number of crypto holders is likely to double.
The researchers also discovered that the next wave of crypto investors is seemingly older (44) and with marginally smaller income ($107,000 a year).
Meanwhile, only 23% of US adults said they have no interest in crypto at all. On the other hand, 77% of respondents—whether they hold crypto or not—said they are interested in learning more about digital assets, highlighting the significance of education in the sphere.
"Trading platforms that prioritize security and smart regulation, while making it simple for anyone to use, make cryptocurrencies accessible and attractive. We believe digital assets are a strategic part of a well-rounded portfolio and providing crypto education will help remove barriers to entry," Perlman concluded.
Another recent survey, conducted by London-based crypto fund Nickel Digital Asset Management, showed that 85% of wealth managers who hold Bitcoin plan to buy more.