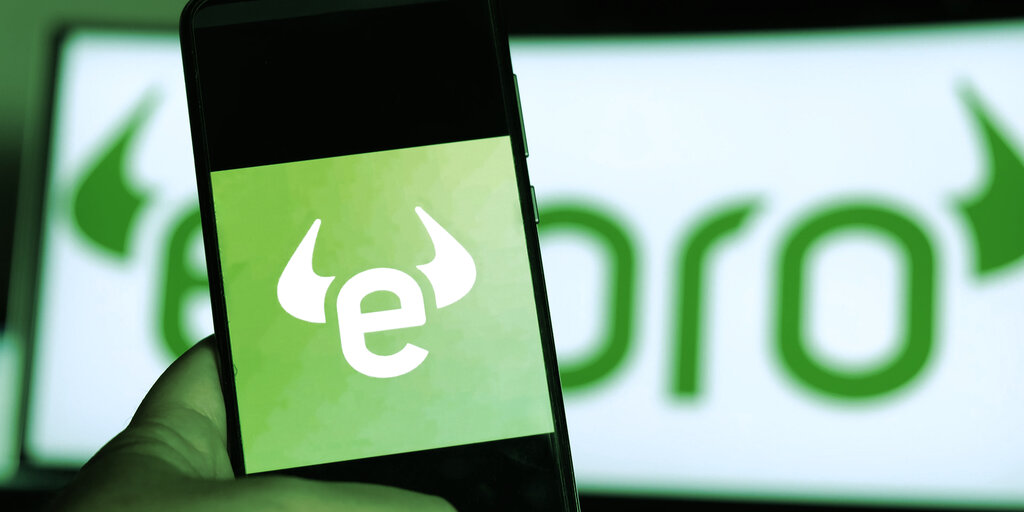 Israeli brokerage eToro has added Chainlink (LINK) and Uniswap (UNI) to the 16 tokens it offers retail investors via its trading platform. 
Announced today, the move marks eToro's endorsement of Ethereum's booming decentralized finance (DeFi) space, which has seen total value locked soar from $800 million to over $56 billion in the past year.
Both tokens are well-established in the DeFi ecosystem. UNI, launched last year, is the governance token for the Uniswap decentralized exchange, which saw trading volumes balloon to over $30 billion in January 2021. It has a market cap of almost $16 billion and is the 11th biggest crypto asset according to CoinMarketCap.
LINK is the native token for Chainlink, a decentralized oracle provider that connects blockchains to real-world data. It currently sits just behind Uniswap on the market-cap leaderboard, and was one of the top-performing crypto assets of the past year.
"Both LINK and UNI have interesting use cases and remind us that not all cryptos are designed to be currencies," said Doron Rosenblum, VP of Business Solutions at eToro. "Chainlink is an important project that aims to overlay internet data with information stored on the blockchain and Uniswap is a critical part of the crypto trading infrastructure."
Big news!

Chainlink ($LINK) and Uniswap ($UNI) are now available for trading on eToro!

Read out blog post for more:https://t.co/cptVNPdEId pic.twitter.com/NB9NlFrcWG

— eToro US (@eToroUS) April 19, 2021
EToro—a multi-asset investment platform most often compared to Robinhood—said it plans to add more tokens throughout the coming months, as it builds out its crypto offering. 
eToro's plan to go public
The brokerage announced in March that it is set to go public through a merger with special purpose acquisition company (SPAC) FinTech Acquisition Corp, in a $10 billion deal backed by SoftBank and banking entrepreneur Betsy Cohen.
It has approximately 20 million users across 140 countries, including the United Kingdom, Australia, Germany and Switzerland, and expanded into the United States in 2018.
Notably, while rival trading platform Robinhood enjoys a valuation as high as $40 billion, it has 7 million fewer users than eToro—which will now benefit from the attention of Chainlink fans, the notorious Link Marines.