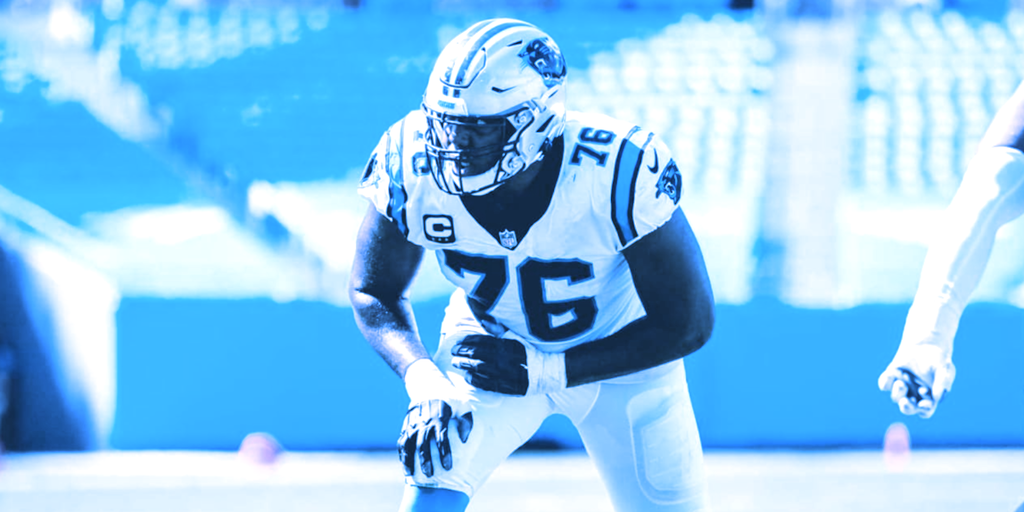 In December of last year, Russell Okung, offensive tackle for the Carolina Panthers, began converting half of his NFL salary into Bitcoin. 
At the time, Bitcoin's price was approximately $27,000. Since then, it has increased to an all-time high of $61,000, before falling back down to a current price of around $55,000. The cryptocurrency's price surge has brought a big boost to Okung's NFL earnings.
Okung's Bitcoin earnings
A common misconception is that the NFL is paying Okung's salary in Bitcoin. 
That is not the case. Instead, half of Okung's $13 million base salary—reportedly $6.5 million—was converted to Bitcoin through mobile payment firm Strike. 
Do it, now. pic.twitter.com/9eAJxcBxLi

— russ (@RussellOkung) December 29, 2020
With Okung's Bitcoin purchased in December at prices of around $27,000, he would have ended up with around 240 BTC. When Bitcoin hit an all-time high of $61,000, Okung's Bitcoin earnings, added to his remaining $6.5 million in salary, effectively increased to over $21 million. 
Russell Okung turned his $13M annual salary to over $21M

(h/t @JoePompliano) pic.twitter.com/X7qbvtxOkG

— ESPN (@espn) March 15, 2021
Sports business newsletter author Joe Pompliano tweeted that this makes Russell Okung one of the highest-paid NFL players. That isn't technically true, since Okung was not paid $21 million in salary by the NFL—he converted half his salary to Bitcoin, and Bitcoin gained in value. But it does mean that Okung's earnings now match up quite nicely in comparison with some of the NFL's biggest stars.
The biggest NFL salaries
The biggest NFL contract in history went to Kansas City Chiefs quarterback Patrick Mahomes, who will earn roughly half a billion dollars on his current contract, and approximately $45 million per year. 
And among the biggest NFL contracts for 2020, quarterbacks—arguably the most important position in all of sports—lead from the front. According to the NFL, 18 of the top 20 contracts last year went to quarterbacks like Aaron Rodgers, Tom Brady, and Drew Brees. It wasn't until spot 19 when a non-quarterback—linebacker Khalil Mack—came along with a contract worth $23.5 million. Rounding off the list is defensive end Aaron Donald, who earned $22.5 million. 
Based on Okung's Bitcoin earnings, this puts the Panthers player in almost exclusive territory as one of the highest-earning non-quarterbacks in the NFL.